"Well, when I am fifty-three or so I would like to write a novel as good as Persuasion but with a modern setting, of course. For the next thirty years or so I shall be collecting material for it. If anyone asks me what I work at, I shall say, 'Collecting material'. No one can object to that."
― Stella Gibbons, Cold Comfort Farm
Synopsis from GoodReads:
THE DELIRIOUSLY ENTERTAINING Cold Comfort Farm is "very probably the funniest book ever written" (The Sunday Times, London), a hilarious parody of D. H. Lawrence's and Thomas Hardy's earthy, melodramatic novels. When the recently orphaned socialite Flora Poste descends on her relatives at the aptly named Cold Comfort Farm in deepest Sussex, she finds a singularly miserable group in dire need of her particular talent: organization. Read movie synopsis at IMDB.com.
My Take:
I've wanted to see this movie ever since I saw Kate Beckinsale plug it on
Letterman
way back in the day, but I never got around to it. Since then, I've followed Ms. Beckinsale's work from
Much Ado About Nothing
to
Emma
to
Van Helsing
and everything in between. She is a talented actress, even as kick-butt vampire Selene in the
Underworld
series. When I finally caught
Cold Comfort Farms
on Netflix, she did not disappoint. I enjoyed it so well, I had to scrounge our local library and actually read the book. (As much as I like Gwyneth Paltrow, Ms. Beckinsale ruined
Emma
for any other actor).
CCF is an entertaining little film, and despite the brilliant turns by an all-star cast (
Sir Ian McKlellan
,
Joanna Lumley
,
Eileen Aikins
and
Rufus Sewell
, to name a few), the real star of the show is author Stella Gibbons, and Malcolm Bradbury who outdid himself remaining true to the book when he wrote the screenplay.
Ms. Gibbons' writing is witty, pithy, and bitingly satirical. To be perfectly honest, as much as I try to write an intelligent review of the book, I find
this reviewer on GoodReads
says absolutely everything I way to say, so go read it. But, especially, read the book before you see the movie. It helps to understand the indecipherable linguistics of the Starkadder tribe who speak a south Sussex argot captured by Ms. Gibbons. You might still not know what they mean, but at least you'll hear it properly.
Ms. Gibbons has a way with words and contrasts sparking clean and tony London (home of glam Mrs. Smiling and handsome Charles Fairford) with grimy and gloriously bleak country living with place names like Howling and Beershorn, Nettle Flitch field and Mockuncle Hill. She satires the Starkadders fatalism by naming their horses Arsenic, Travail and Viper. The cows are Feckless, Graceless, Pointless and Aimless. Graceless loses her leg now and then.
As for the film, young Kate is great is the orphaned, impoverished and meddlesome Flora Poste who, in her determination to avoid working, decides to mooch off her poor and backward relations, and in the process expends a great deal of effort rearranging all their lives. Joanna Lumbley is absolutely fabulous as Flora's friend and mentor, the merry widow Mrs. Mary Smiling who gets comparatively little screen time but makes the most of what she's got. Mrs. Smiling keeps our Flora supplied with advice, fashion magazines and gum boots to keep her sane in her remote isolation.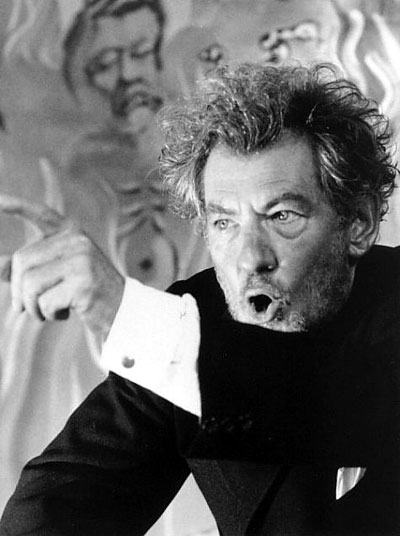 Heading the south Sussex tribe of Starkadders (all over-large and under-washed) are Judith (Aikens), clinically depressed and fixated on her second son, and her husband Amos (Sir Ian McKlellan). Sir Ian gives a standout performance as the erstwhile preacher at the Church of the Quivery Brethren. Flora deftly maneuvers Amos out of the house and out of the way of eldest son Ruben's improvements with the temptation of the life of an itinerant preacher roaming the countryside in a Ford van.
Rufus Sewell plays the second son, Seth, virility walking and the fecundity of the countryside personified. Seth is everything Ms. Gibbons wants to say about the popular genre of her time (earthy novels about the animal lives of country folk). He plays at being the neighborhood bad boy, but in truth, all he wants to do is watch the "talkies". Flora disposes of his untidiness by sending him off to become a Hollywood heartthrob. One is left admiring the way Ms. Gibbons pens a tome entirely about sex without in sex in it at all.
Other family folk who populate the house are daughter Elfine (the flighty nature's child) in love with the country squire Dick Hawk-Monitor of Hautcouture Hall, Urk (a creepy cousin of some sort who has been promised Elfine), and Adam Lambsbreath, an aged hired hand who in the movie appears to be Elfine's father, but is not.
Aging matriarch Ada Doom, Flora's great-aunt, bullies them all from the seclusion of her room. She feigns madness to keep them shackled to the farm because there have always been Starkadders at Cold Comfort. After all, she saw something nasty in the woodshed. . . . or what it the cowshed. . . or maybe it was the bike shed or tool shed. Anyway, it was a shed and it was nasty. Various other colorful family and hired folk round out both cast and novel.
So much goes on in this short book and film, so many colorful characters populate it and Flora spends so much time fixing everyone else, the reader must watch carefully to catch Flora's own romance which Ms.Gibbons slips in so subtly, it's almost missed. I much prefer the way Ms. Gibbons treated the final resolution of Flora's own circumstances over that of Mr. Bradbury, but each ending is most appropriate for its respective medium and highly satisfactory.
Bottom line:
I strongly recommend this book and the film adaptation. I will definitely be reading Ms. Gibbons'
Cold Comfort
sequels. My version included an introduction by Lynne Truss which I found quite enlightening to begin with.
********
Footnote:
Unlike the book, the movie capitalizes on Flora's initial attempt to become a writer. This made no sense to me because, other than the quote above and a place where Elfine announces she's going to write poetry when she's fifty, it isn't mentioned again in the novel. However, how else could the screenwriter work in the flowery prose Ms. Gibbons seems to mock, other than by having Flora create some of her own? Witness:
Dawn crept over the Downs like a sinister white animal, followed bythe snarling cries of a wind eating its way between the black boughs of the thorns. The wind was the furious voice of this sluggish animal light that was baring the dormers and mullions and scullions of Cold Comfort Farm.

― Stella Gibbons, Cold Comfort Farm
Only the utter incongruity of these passages in the book (and their stark similarity to works like Wuthering Heights) hints at Ms. Gibbons' gentle poke at the genre, but the film decides to make a stronger jab at it.
Golly. Glad I never get caught in traps like that.
FTC disclaimer: I borrowed this book through the public library system and received no compensation from the author or their agent for this content.