Book:
Trail of Storms
Author:
Marsha Ward
Pages:
264
Format:
Paperback/Kindle
Publisher:
iUniverse
(March 2009)
Book Source:
Provided by Author
Category:
Western
Style:
Compelling, some violence, rare profanity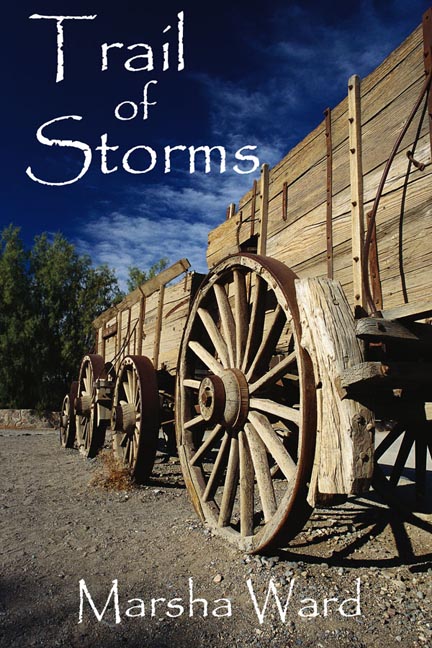 Synopsis from GoodReads:
After her sister suffers a brutal attack, Jessie Bingham and her family flee post-Civil War Virginia and endure a perilous trek to New Mexico Territory. When she hears her former sweetheart, James Owen, has taken a wife, Jessie accepts Ned Heizer's marriage proposal on the condition they wait until journey's end to wed. But then Jessie encounters James again . . . read more . . .
Spoiler Disclaimer:
Unlike
Ride to Raton
in relation to
The Man From Shenandoah
, it is very difficult to review Trail of Storms
without risking the revelation of key plot developments of
Road to Raton
. I shall do my utmost, but I can't guarantee anything. If you have not read Road to Raton, be forewarned.
My Take:
Trail of Storms is Book 3 of
The Owen Family Saga
. Six years elapsed between the publishing of volumes 2 and 3, but Ms. Ward picks right up from where she left off in the powerful ending of
Ride to Raton
. However, she leaves the James Owen, et al, in Colorado territory and whisks us back to the Shenandoah Valley where the left-behind Bingham family is suffering their own misfortunes. The Yankee occupiers continue to oppress the little town of Mount Jackson, rapscallions and scallywags carry on an unchecked reign of terror.
Ms. Ward comes out swinging in Chapter One and the reader knows she has finally hit her stride. With the oldest sister, Hannah scarcely clinging to life and sanity after a brutal sexual assault, her husband, Robert Fletcher, in danger of the hangman's noose and/or mob justice, the fatherless Bingham-Fletcher clan escape from the Yankees in the night. Sister Heppie leaves behind her beau, George Heizer, who lingers behind to care for his ailing brother, Ned, who has yet to return from his stint as an officer in the Union Army. Youngest sister, Jessica, proves the strength of the family when everyone else falls to pieces although she secretly pines for James Owen who abandoned her when he left for Colorado territory more than a year gone. Mrs. Bingham and teenaged Luke round out the cast.
Trail of Storms
gives the reader plenty to chew on, plenty to care about, and real, honest, painfully raw issues that have no easy answers. Anger, fear, hatred and anguish all assault the family and the reader. One flinches with the blows that are landed on George as the hoodlums attempt to extract information from him. One's nerves grow taut as Jessica stares down the barrel of a shotgun at the rapist's cronies bent on revenge and feel her crises of conscience as she struggles with the consequences of her choices.
As surely as the Bingham-Fletzer-Heizer clan make their tormented way across the months and the plains, darkness subsides, bodies and spirits begin to heal, accommodations are made, and, little by little, hope returns. By the time the little train of three wagons stumbles across James and all his issues exactly where he was left at the end of
Ride to Raton
, the reader is good and ready for him to stir things up again. And, again, Ms. Ward plunges the reader back into the depths of James' agony made even more complex by the presence of the betrothed Jessica Bingham and her typical 19th century racial mores.
Just a note or two:
As in her previous two novels, Ms. Ward struggles a bit with pacing in the middle, (I really don't care how chairs were arranged at a dinner table); like
Ride to Raton
, the Law/Army remain conspicuously absent and/or uninterested in the various murders, assaults, and other criminal activities both in Virginia and out in the frontier; and money and food never truly become a pressing issue. (A few weeks of work in Saint Louis set the family up with Conestoga wagons, mules and draft horses for the long trek across the plains).
I also find it somewhat annoying that whenever the Binghams run into people from Mount Jackson, either they barely recognize them after only a year's absence, or introductions have to be made all over again. The Binghams were bakers and the Hilbrands owned the general store in the town. Why would they not instantly recognize one another?
However, these issues (I always have pet peeves, it seems) easily pale when compared to the compelling drama embellished with such gems of phrases as "
stinging his face and his dignity
." And then,
He stood as tall as he could, considering that his soul was bent over, crouching and curling into a ball at having to admit the truth.
Finally, unlike the first two installments of the
Owen Family Saga
, parents should use caution and first read this book before turning it over to their children. It contains mature subject matter, particularly in the first two chapters. However,
Trail of Storms
can also be used as a door to conversation, particularly when discussing such subjects as rape, contraception, sexually transmitted diseases and abortion with older teenagers. Ms. Ward handles many of these issues with the frankness young adults crave but also with the sensitivity and circumspection parents will appreciate.
The Mormon Issue:
Ms. Ward is a member of
The Church of Jesus Christ of Latter-day Saints
, but this series has not been overtly "Mormon fiction." Up to this point, the closest the Mormons ever got to the Owen clan was across the Continental Divide. However, here a small group of Saints migrating from Mississippi to the Salt Lake Valley cross paths with our travelers, share their faith with the heartsick and downtrodden, and fill both James and Hannah with a bright new hope and relief to their suffering.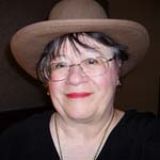 By and large, Ms. Ward does this with a deft hand. She provides religion as a means to an end and only stands on her toes to raise her voice above the din, rather than clamber on her soapbox and bellow out a sermon over the heads of the insensible masses. Many a literary character find solace in religion, and, like every other author, Ms. Ward writes what she knows.
Bottom Line:
This is a very fast, easy read with periods of emotional intensity and disturbing violence. Parents are advised to use caution. However, the mature themes are treated skillfully to tell a compelling, emotionally engaging story. I eagerly await the release of Ms. Ward's next installment of
The Owen Family Saga, A Spinster's Folly
.
FTC disclaimer: An electronic copy of this book was provided to me by the author or their agent with the understanding I would provide a fair and honest review. I receive no other compensation for this content.