Book:
Shadowland
Author:
C.M. Gray
Pages:
222
Format:
Paperback, Kindle
Publisher:
Amazon Digital Services
Book Source:
Provided by Author
Category:
Young Adult Fantasy/Adventure
Style:
Engaging page-turner, magic, contains graphic violence
Synopsis from Goodreads:
'I have lived more years than I can remember, probably more than the sum of all your years combined. Kings have called me friend and brigands have sworn to burn the flesh from my bones even if they have to search all seven halls of the shadowland to find me.'
On the night of midwinter's eve, a storyteller takes his listeners back to the Dark ages and a tale from his youth.
Deserted by its Roman masters, Britain has been invaded by the Saxons at the invitation of Vortigern, traitorous leader of the Britons. Now, as the tribes unite to reclaim their land, one man must rise to lead them and become their true and only king
. . . .more
My Take:
The storyteller's story centers on two fourteen-year-old boys, Usher Vance (put that on your 'name the baby' list) and Calvador Craen, who, late for supper one evening, escape the brutal slaying of their entire village in the thickly forested East Anglia. Treed by a ferocious pack of wolves, the pair watch helplessly as ravaging Picts, venturing far too far south of Hadrian's Wall, murder, pillage, and drag away several children, including Calvador's younger sister, Clarise.
(Here, I have to interject my biggest gripe with this book, in that Mr. Gray portrays the two boys as rather helpless and in need of a crash course in hunting, fighting, and tracking in order to survive on their quest. In the savagery of fifth and sixth-century rural Britannia, lads of such an age would already be well-verse in the manly arts, if not considered full-fledged adults.)
Be that as it may, in their desperate pursuit, Usher and Cal stumble upon Meryn, a weather-worn former soldier turned farmer who enlists in their cause and vows to teach them to be men, which he does. They eventually encounter the marauding Picts, rescue Clarise and several more children, and discover the leader of the pillaging band is none other than Horst, the legendary Saxon, the lesser of the conquering duo of Hengist and Horst.
Meanwhile, Roman rule of Britannia is crumbling, the troops are pulling out, and villas and cities are abandoned, leaving the common folk at the mercy of Scots, Picts, feuding warlords, and invading Saxons. Mr. Gray plops his spunky protagonists right down in a quagmire of warring interests which provides them with opportunities a'plenty to practice their new problem-solving skills. The tale is intriguing, engaging, fast-paced enough to hold the attention of its target audience, and throws out ample screwballs to keep the reader on their toes.
Nearly halfway through the book, our traveling quartet (Usher, Cal, Meryn & Clarise), heading off to join Ambrosius, the son of their assassinated Briton king, Constantine, to battle the usurper Vortigern, stumble over a hermetic druid, seemingly crazier than a loon, who guides them through a mystic experience which reveals they hold the future of Britain in their hands. Hengist and Horst have actually been searching for Usher and Clarise, convinced the children mean success or failure in the impending Saxon invasion.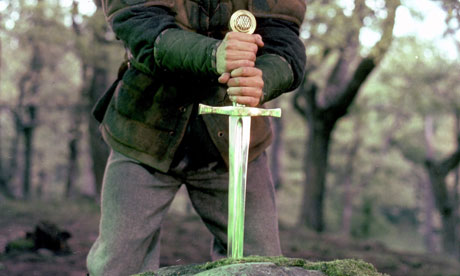 Only then does one realize this is really a story about . . . meh. Never mind. I don't want to spoil the surprise. But Mr. Gray, while deftly interweaving a whole mosaic of British legend into one cohesive whole, induces the ultimate [head smack]. He asks the great "why not?" and comes away with a winning story skillfully told. And he does so with great èlan. I get itchy just thinking about it.
While reading
Shadowland
, the reader feels the interminable damp, seeping, unrelenting cold, the misery of being wet and staying that way; the inescapable pull of thick, sinking, clinging mud and sludge; the bitter wind and crashing waves of the frigid North Sea. Mr. Gray assaults them with a veritable cornucopia of malodorous experiences: barnyards, stables, offal, human excrement, unwashed bodies (ever), wet wool and fur, smoky, stuffy communal lodges, the blood, gore and decay of battle. One feels the rough textures of textiles,skins and pelts—and squirms at the entomological implications.
denouement
a touch confusing but would love to read a sequel (or a prequel) for illumination. Some of the finer details of the character development felt touch soft, and I have read nothing that can compare to
Robert Jordan
's or
Brian Sanderson
's skill with
wolf dreams
. However, the reader quickly forgets any deficiencies as they cheer or shed tears for Mr. Gray's engaging protagonists.
Also, the storyteller breaking in upon the reader from time to time may become a needless annoyance for some. However, with patience, the reader learns Mr. Gray has tied up even these seeming pointless inconsistencies in a nice, neatly wrapped and satisfying package.
Bottom line:
Mr. Gray writes a vivid, visceral tale of war, politics, legend, survival, magic, hope, tragedy, and undying friendship and loyalty. Although this book officially targets teenage boys (not a speck of romance and plenty of graphic violence), Mr. Gray creates sixth-century Britannia so vividly, adults who enjoy either fantasy or historical fiction will enjoy reading this coming-of-age tale of one of England's most famous but most neglected legendary figures.
FTC disclaimer: An electronic copy of this book was provided by the author or their agent with the understanding I would publish a fair and honest review. I receive no other compensation for this content.
Join us here for an author interview with Charles Gray, and sign up for our Rafflecopter giveaway. Win a free copy of Shadowland.
a Rafflecopter giveaway